Most project managers know that creating the project plan is only the start of the project management journey. All the careful planning and forecasting don't count for much if there isn't a concrete way to execute the project plan. And with most projects having so many moving parts, creating a schedule that is actionable and takes into account all the realities of the project can become the most critical part of the project management process.

What is Project Scheduling?
A project schedule is your project's timeline, it consists of all the sequenced tasks, activities and milestones that need to be completed in a certain timeframe.
Creating a project schedule is a way of communicating all the tasks that are needed to be performed, while clarifying what resources are needed, under what time frame.

Effective project scheduling leads to the success of a project, reduced cost, and increased customer satisfaction

Broadly speaking project scheduling consists of 3 steps
Determine what needs to be performed
Determine who needs to perform the work
Determine how long it will take to perform the work.
Creating the Project Schedule
Even large, complex projects need to be broken down into smaller manageable tasks that have clear objectives and timelines. Creating a project schedule can be done by following these steps:
1. Plan Schedule Management: This includes all the groundwork involved in setting up a schedule. It consists of establishing all the policies, procedures and guidelines that will govern your project. It identifies all the stakeholders in the project management process, identifies who must approve the schedule and who has the authority to make changes to it.
2. Define Project Activities: This consists of all the activities required to be finished to complete the project. This involves clearly stating the nature of each task, what the subtasks under them are, and determining milestones to track the project's progress along the way. Activities should be measurable, easily estimated and related to both a project deliverable and a budgeted cost.
3. Determine Dependencies: Identifying dependencies involves listing down all the activities that rely on others to be completed. This helps you to structure your schedule based on which tasks need to be done parallelly and which need to be done sequentially.
4. Sequence Activities: After you have identified dependencies, you can begin to sequence the activities in a project. This does not involve assigning timelines to each task but involves creating an efficient workflow in which the order of the tasks is identified.
5. Estimate Resources: Every activity in your project requires resources. This could be in the form of personnel, software, workspace and much more. Estimating resources ensures that the optimal amount of resources are available at each stage of the project, so that you don't encounter delays while executing your project.
6. Establish Durations: Accurately documenting how long each activity will take is key to ensuring the project as a whole stays on track. Underestimating how long a task would take can have cascading effects of the entire schedule, while overestimating how long a project will take can lead to the wasteful use of time and resources.
7. Monitor and Control: This process takes place throughout the length of the project. It involves running reports and assessing the progress of a project against the schedule, managing performance, and communicating with the team.
Techniques of Project Scheduling
Project scheduling typically includes various techniques, some of the most common techniques are:
Mathematical Methods:
These models calculate the start and end date of various tasks in the project based on their known scope.
Critical Path:
The Critical Path Method is a model that identifies the maximum and minimum required time to complete a project. It also helps to identify all the critical tasks that need to be completed in a project for it to stay on track. It also identifies other tasks in which the delivery time does not affect the schedule. CPM is implemented by listing down the tasks necessary for a project's completion and noting the dependencies between them.
A critical path helps to visualize the project flow and calculate its duration when all dependencies and deliverables are known.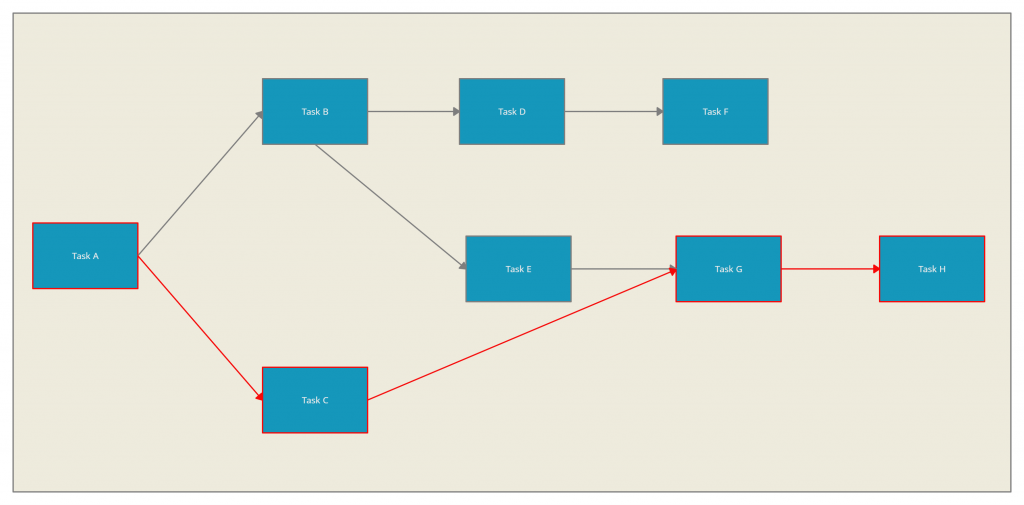 PERT Chart:
Just like a Critical Path Diagram, a PERT chart also helps visualize the task flow in a project and estimates a timeline based on their assumed duration. Like in CPM, you need to define tasks and order them based on project timelines. You can then create a network estimating different timelines of your project depending on various levels of confidence to create,
Optimistic timeline
Most-likely timeline
Pessimistic timeline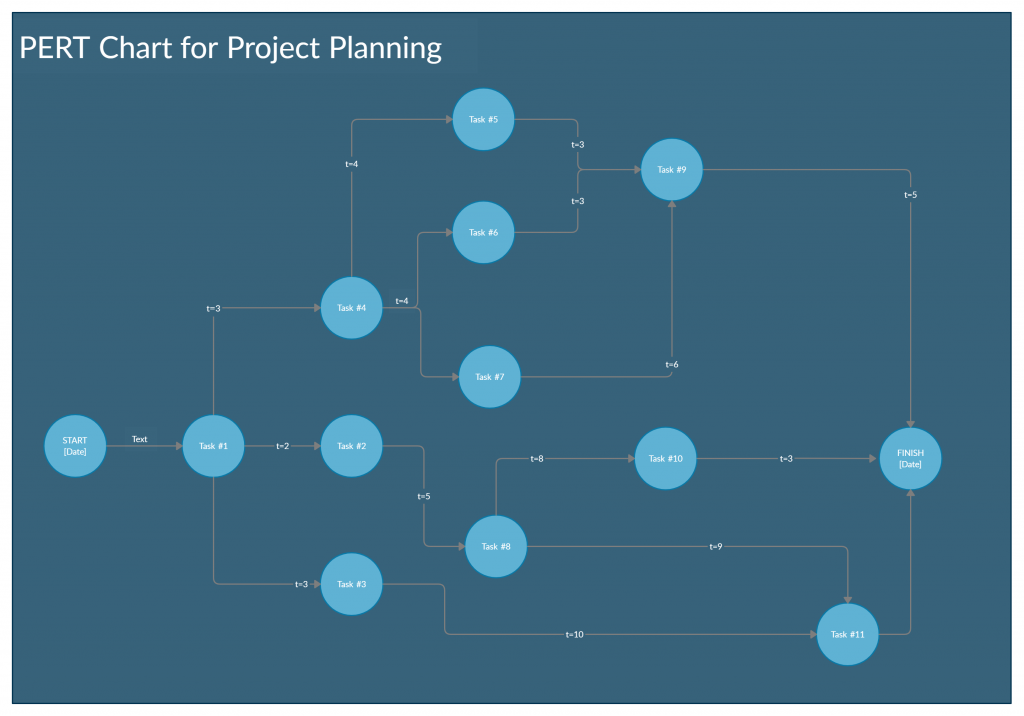 PERT Charts use a weighted average duration to calculate possible timelines.
Duration Compression
These are techniques to shorten a schedule, it is used to adjust the schedule without changing the scope.
Fast-Tracking
This is another way to use a Critical Path. It helps you to find tasks that could be done simultaneously or be partially overlapped to speed up the project's delivery. By analyzing the Critical Path, you can identify which tasks can be fast-tracked.
Crashing
This is a technique where additional resources are brought in to complete a project on time. This can be used in unique cases where a project has extra resources to spare. It can also be applied to situations where simply adding more resources can speed up the completion of a project. This technique significantly increases the cost of a project.
Task List:
This is the simplest technique of project scheduling and involves creating a spreadsheet or document of all the possible tasks involved in a project.
Gantt Chart
It is used by project managers most of the time to get an idea about the average time needed to finish a project. A project schedule Gantt chart is a bar chart that represents key activities in sequence on the left vs time. Each task is represented by a bar that reflects the start and date of the activity, and therefore its duration.
Tips To Master Project Scheduling

Input from Stakeholders: Creating a project schedule cannot be done in isolation. Consulting your team and other stakeholders allows you to identify tasks, resources and dependencies more accurately so you can estimate durations with realistic timelines.
Refer to Past Projects: Referring to previous projects with similar scope can help create a more comprehensive schedule with realistic estimates and a more exhaustive task list.
Identify Risks: Proactively identifying and documenting all the factors that could potentially derail your project allow you to create a risk management plan that could effectively mitigate risks if they occur without affecting the project schedule drastically.
Record Scheduling Assumptions: Clearly define your reasoning for calculating an estimate. A large part of scheduling is making predictions, this involves making assumptions based on the current information available. Listing down these assumptions makes it easier to identify how the entire schedule may change if some of your assumptions change along the way.
Tell us About Your Experience with Project Scheduling
Project scheduling techniques are constantly evolving. Do you have any experience with the implementation of project scheduling techniques, we'd love to hear from you. Tell us about your insights in the comments below.