A solid content strategy can double your online exposure and boost your conversions. It's an essential tool in guiding smarter decision-making and generating effective results.

In this post, we'll look at the steps you need to take when creating a content strategy successfully and some visual tools that can help simplify and accelerate the process.

Identify Your Objective for Creating Content
What is the purpose for creating a piece of content? Is it to increase brand awareness? Boost organic traffic or social media engagement? Double revenue?

Once this purpose is clear, it would become easier for you to follow the next few steps.

Research Your Audience
Identifying who is your audience is crucial to creating content that is relevant and engaging. It will allow you to customize content according to the needs of your potential customers.

Research on your target audience will reveal to you important details about them, such as where they are from, their needs and challenges, their buying patterns, the keywords they use to search your competitors etc.
This will make it easier to identify what type of content, writing styles, content formats and topics you should focus on when creating content.
It'll come in handy to create an audience profile or customer profile based on the information you gather through research. If you have different customer segments, create several of these audience profiles (we have provided an editable template below). Refer to them whenever you are creating content.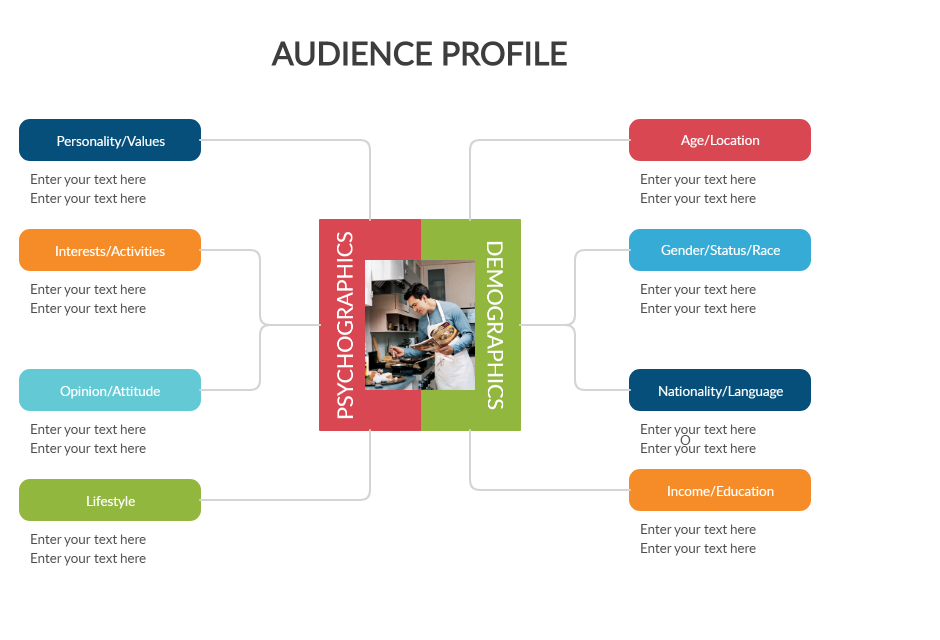 Find a Suitable Topic
Once you know who you are writing to including their intentions, it becomes a lot easier to pick a relevant topic.
There are several ways you can find topics for your content,
The needs of and challenges faced by your potential customers
Common search terms (keywords) used by your audience to find products and services similar to yours
Content published by your competitors
Online platforms such as Google News, Google Trends, Buzzsumo etc. to find trending topics
With the help of these sources you can gather as many topic ideas as needed.

Create a repository of topics using a mind map like the one below. You can add useful links to relevant shapes and create a digital library of resources. Share it with everyone and give them quick access to refer to and edit the diagram.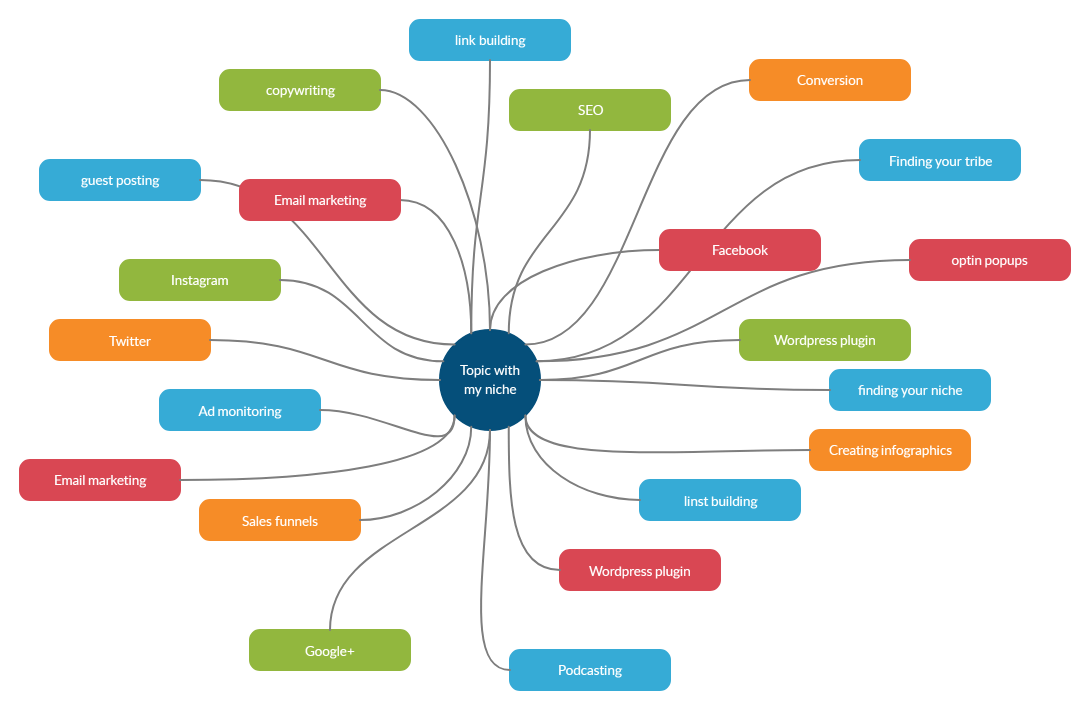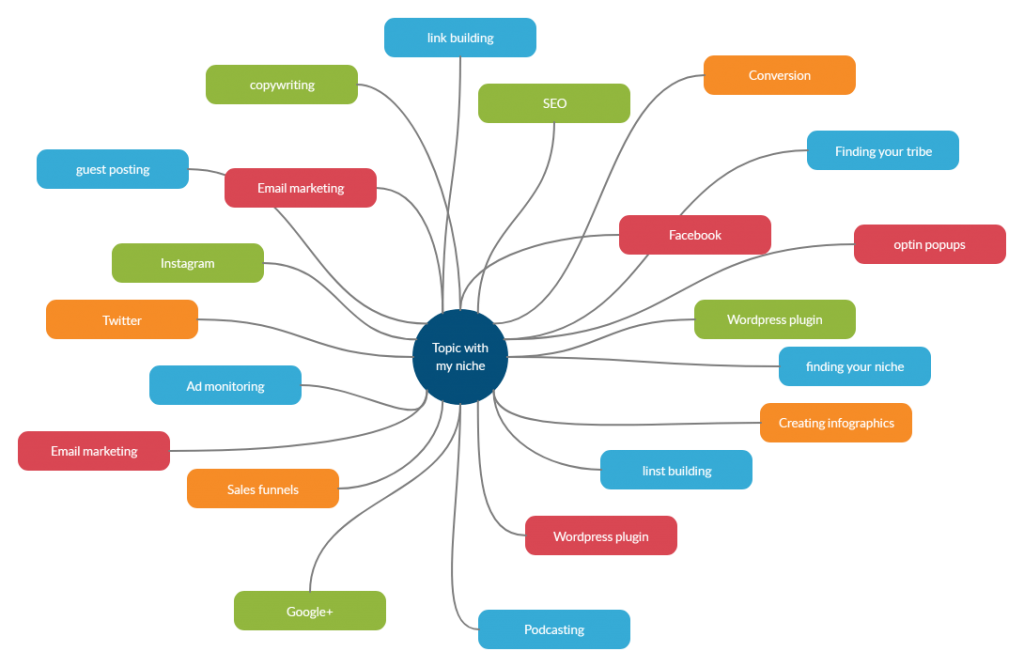 Decide the Content Format
A blog post alone won't win over everyone of your potential customers. That's why you need to explore different content formats.

Keep in mind that the type of content that you target your audience with may also change for each stage of the sales funnel.

For example, although you offer a checklist or a how-to video for a customer in the awareness stage, it won't work with someone who is considering to buy your product. You should target that customer with a free trial or a demo video to propel his decision to buy.

The format you should select would also change based on the type of topic you choose. If it focuses on a lot of numbers, an infographic would be easier to comprehend for the reader. And if you are explaining how to use your product, a video or a step-by-step guide would be suitable.

Resources:
Viral Video Tip: To Make Better Videos, Start with a Storyboard
4 Simple Infographic Tips to Get Your Audience Hooked in Seconds

Whatever format you select, it helps to plan your content before actually starting to create it. You can use a diagram like the one below to create a rough structure of your blog post, video or infographic.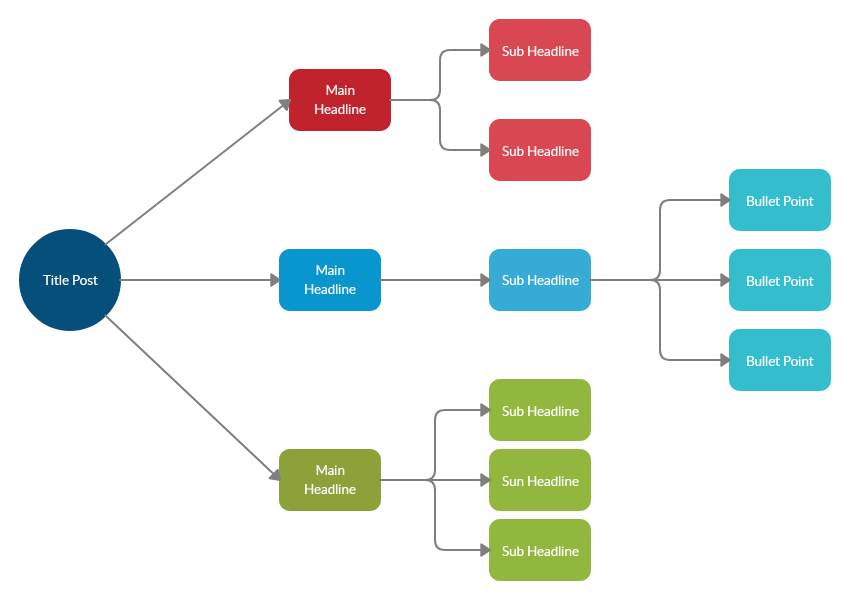 Select Content Distribution Channels
Selecting the right channels to distribute and promote your content is important to attracting qualified customers. To know where you should promote your content, you need to know where your customers spend time.

Based on your customers, you can decide which channels you should promote your content in. The more channels you share your content in, the more exposure you'll get.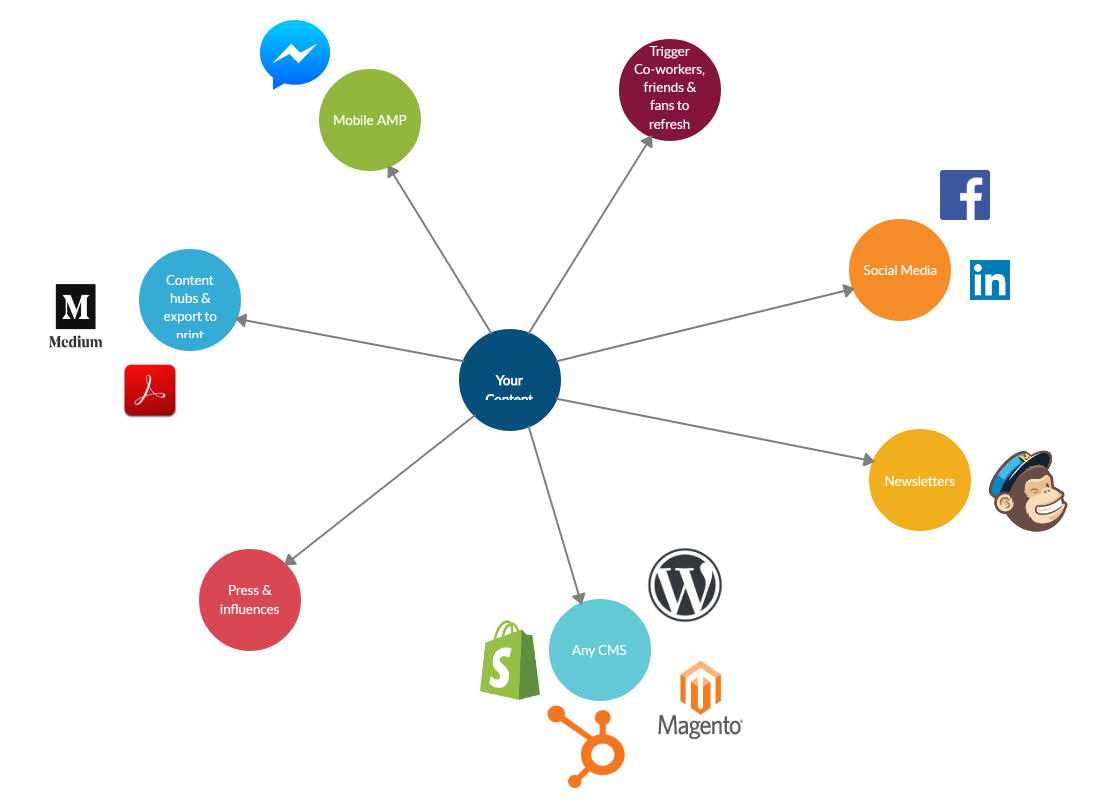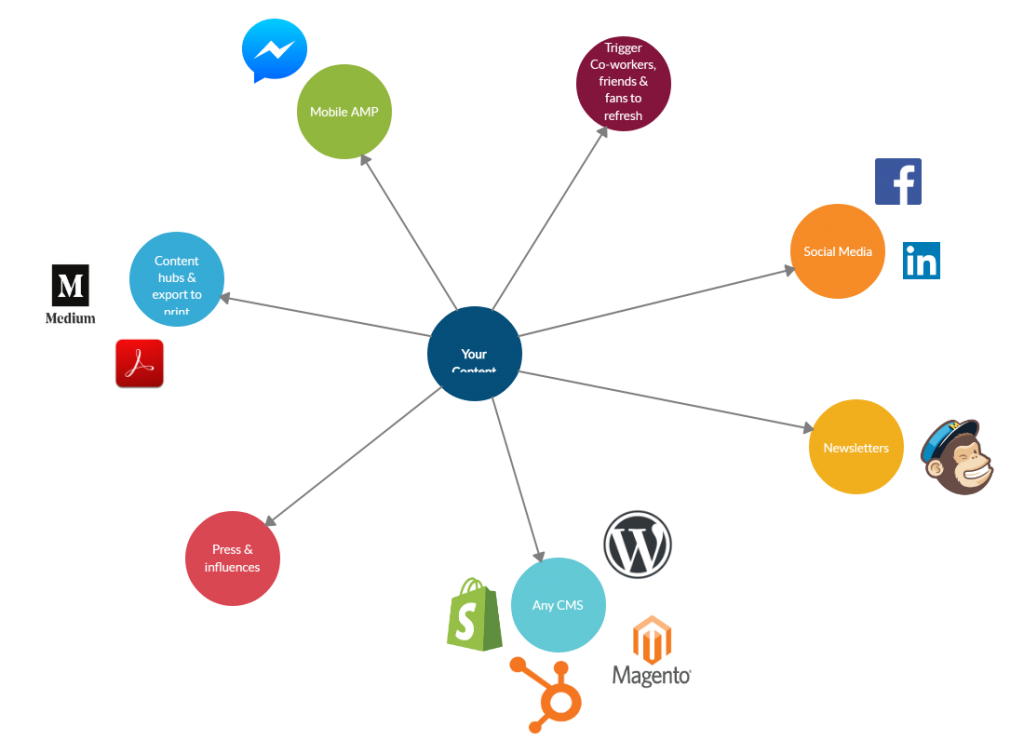 Create a Content Calendar
Now that you know where you are going to publish your content on, it's time to figure out when exactly to post them.

You can use a content calendar to schedule your content. A few factors you need to take into consideration when creating your schedule are the type of content you are publishing and the time periods your audience will be accessing them.

For example, you cannot publish two to three blog posts on the same day as they might take more time and resources to curate as opposed to Twitter updates. Similarly, if your audience is from a different continent, you have to consider the time difference.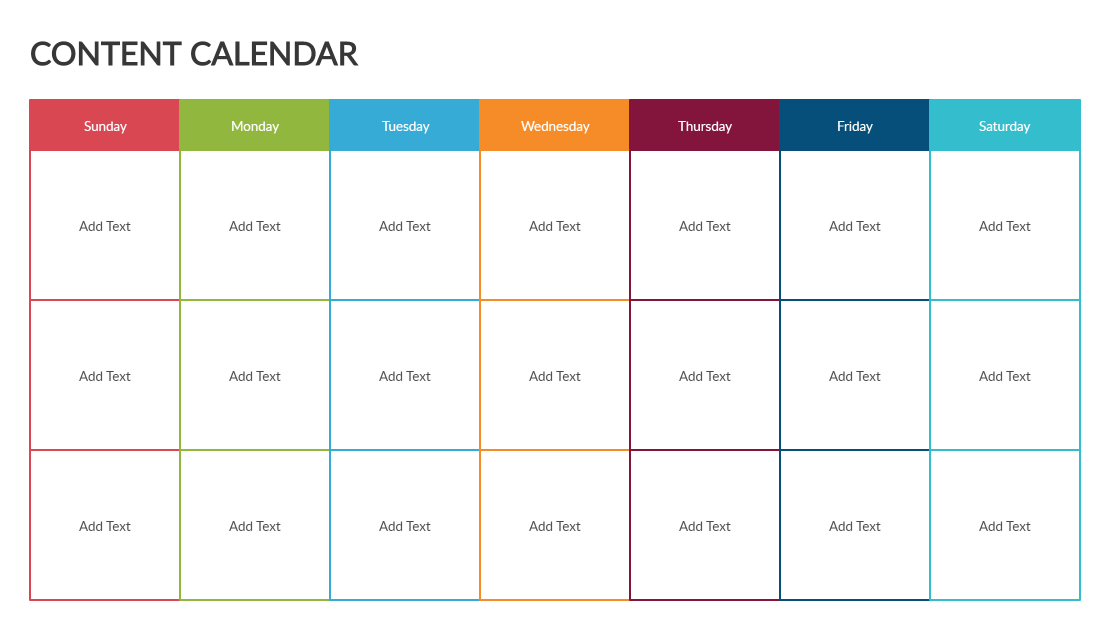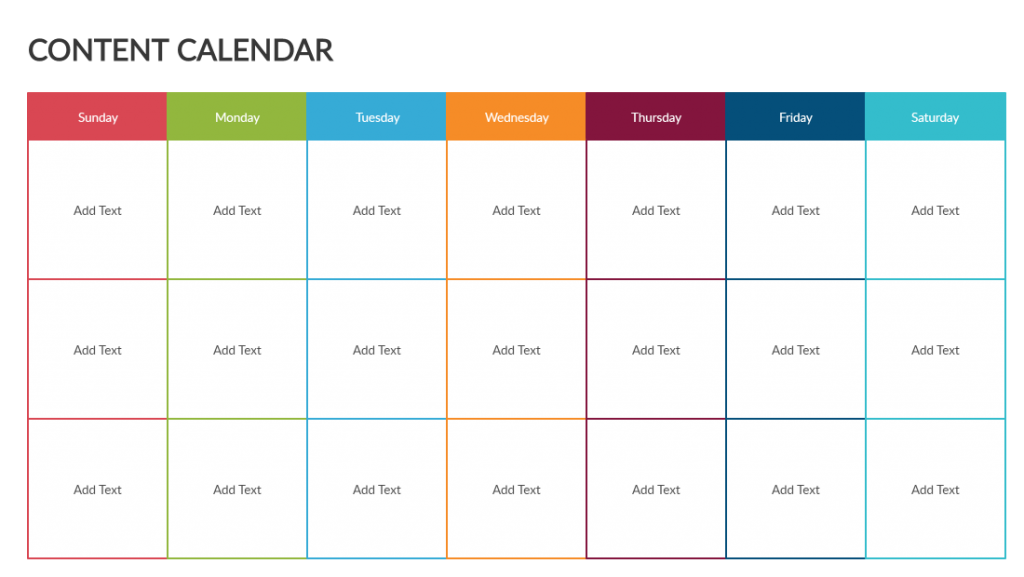 Inform Your Team about the Process
A content strategy can only be executed successfully if everyone involved does their job right.
You can use a workflow diagram to assign your team the work they need to do, and clarify their responsibilities and how they contribute to execute the plan.



More Tips on Creating a Content Strategy?
Here we have covered the steps you need to follow when creating a content strategy. Make use of the templates provided to simplify and guide each step.

If you have more content strategy techniques to share with us, do let us know in the comments below.