All the organizational chart examples listed below can be edited online using our org chart software. Once you're done you can export them and add them to your presentation, website or document.
Below are some of the most popular templates. Simply click on them to create your own org chart using them. There are a lot more templates listed further below.
What Is an Organizational Chart?
An organizational chart is a visual representation of an organization's reporting structure. It depicts a company's internal structure by detailing the employee relationship hierarchy, designation, responsibilities, and relationships between individuals within an entity. They are used as a management tool, for planning purposes, or as a personnel directory.
Different Types of Organizational Charts
There are different organizational chart types that can be used in different scenarios, and they include,
Hierarchical Structure
Matrix Structure
Horizontal/Flat Structure
Network Structure
Divisional Structure
Line Organizational Structure
Team-based Organizational Structure
Refer to our guide to learn about these org chart types in detail and get access to templates.
How to Create an Organizational Chart in Creately
Spend 1 minute to watch this video and understand how easy it is to create, style and export an org chart using Creately.
Organizational Chart Examples
We've listed the various org chart examples so you can quickly navigate to the one you like. You can customize any of them by adding your company logo, company colors etc. Just click on any image ans we will open it up with all the necessary shapes to create your organizational chart.
Organizational Chart with Images
With this template, you can put a face to the name. No point knowing the name of VP of marketing if you can't identify him. Even new employees will be able to easily recognize the relevant people and they will thank you for it. Just make sure to add a nice picture or you can do even better by asking them to send a picture. If you want a consistent style across images it's better to hire a professional and take the pictures yourself.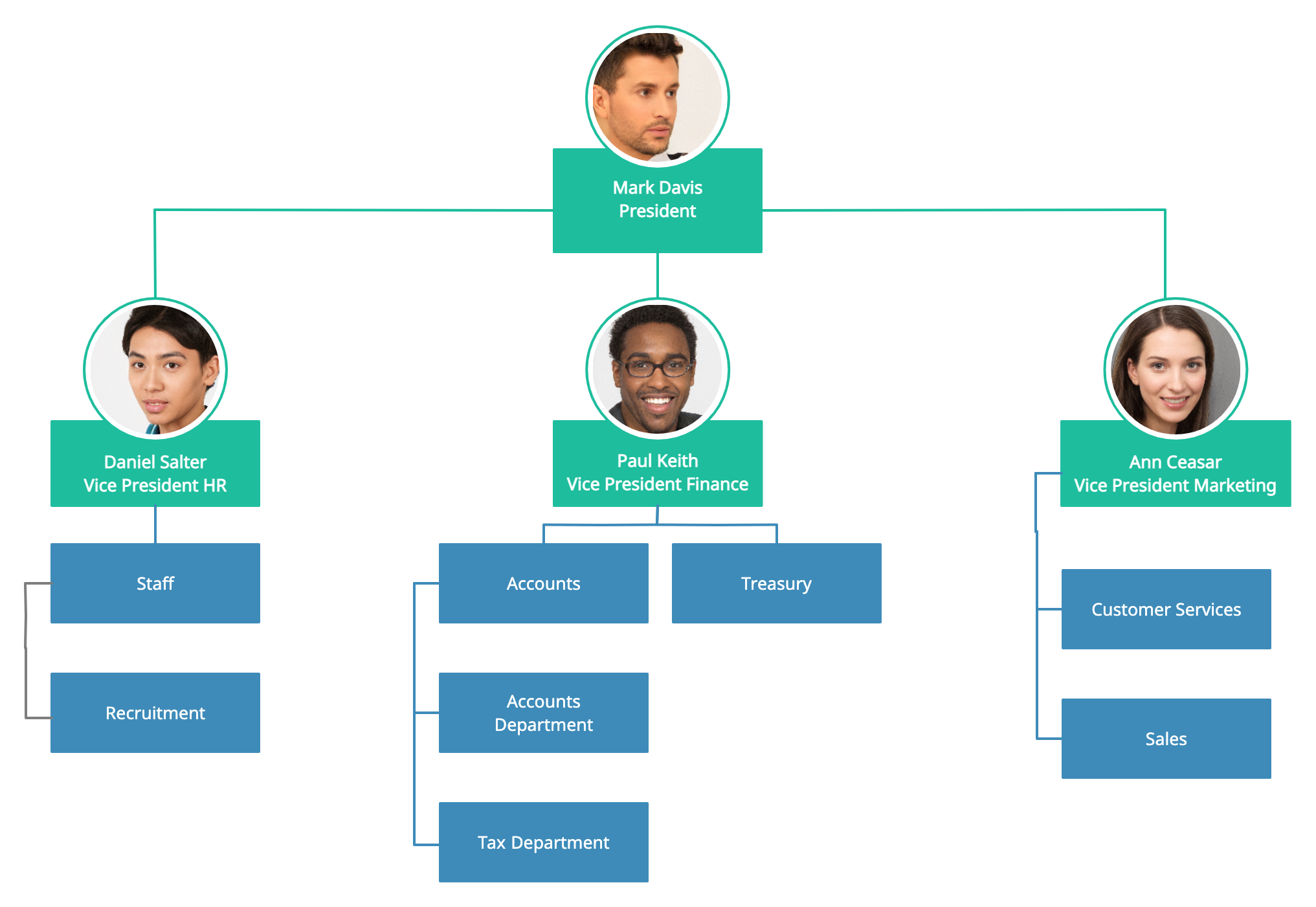 Hierarchical Organization Chart Template for a Project
A hierarchical organization chart template that shows the reporting structure of a project. Probably the most common structure used at the moment is hierarchical org charts. However, it is changing fast as organizations adapt to the changing times. You might want to look at different organizational chart types if you're considering a change.
Organizational Chart Template for Performance and Retention Planning
If you're using org charts just to visualize the structure of your organization then you're selling yourself short.
This organizational chart shows the growth of an organization. Employees who have worked for more than one year are shown in yellow color boxes, employees who are not performing well are identified with boxes outlined in red and future employees are represented by dashed boxes. Color coding your org chart like this will emphasize its accuracy even more.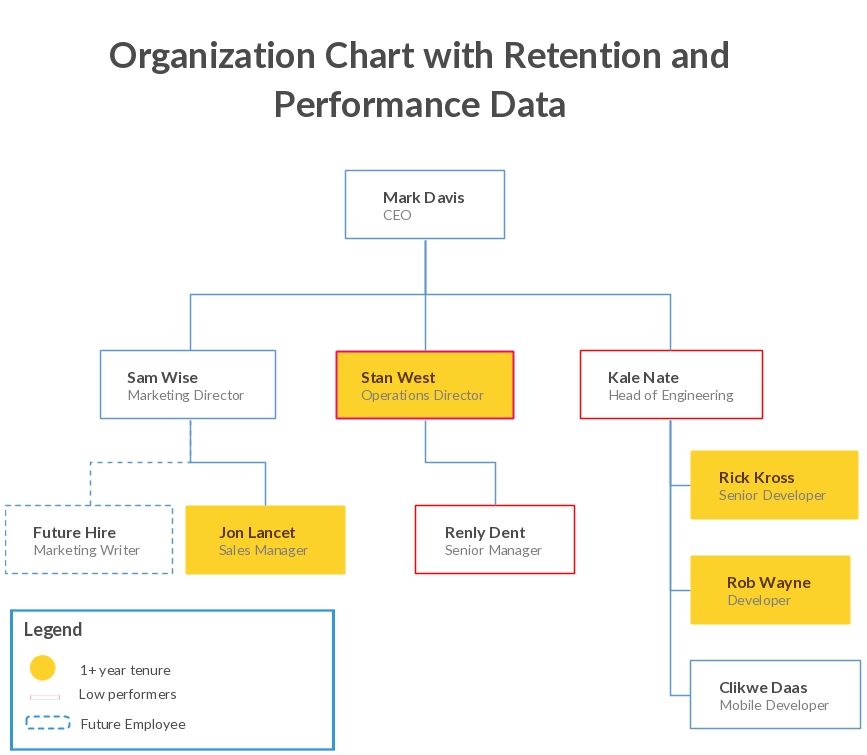 Organization Structure Template for Corporate Business
Often, the organizational structure can be large in size. Hence it looks more complex to understand. The matrix organizational chart is often used when you have personal reporting to multiple teams or departments. Refer the previously linked article about different types of organizational charts to further explore this structure.
Blank Organization Chart to Get Started
If you are already confused with the previous charts, here's a simple org chart template to get started. You can click on the image to open it online and simply replace the data as per your organization's structure.
Organization Chart Example for a Hospital
This organizational chart refers to levels of management within the hospital. You can click on the image to modify as you see fit.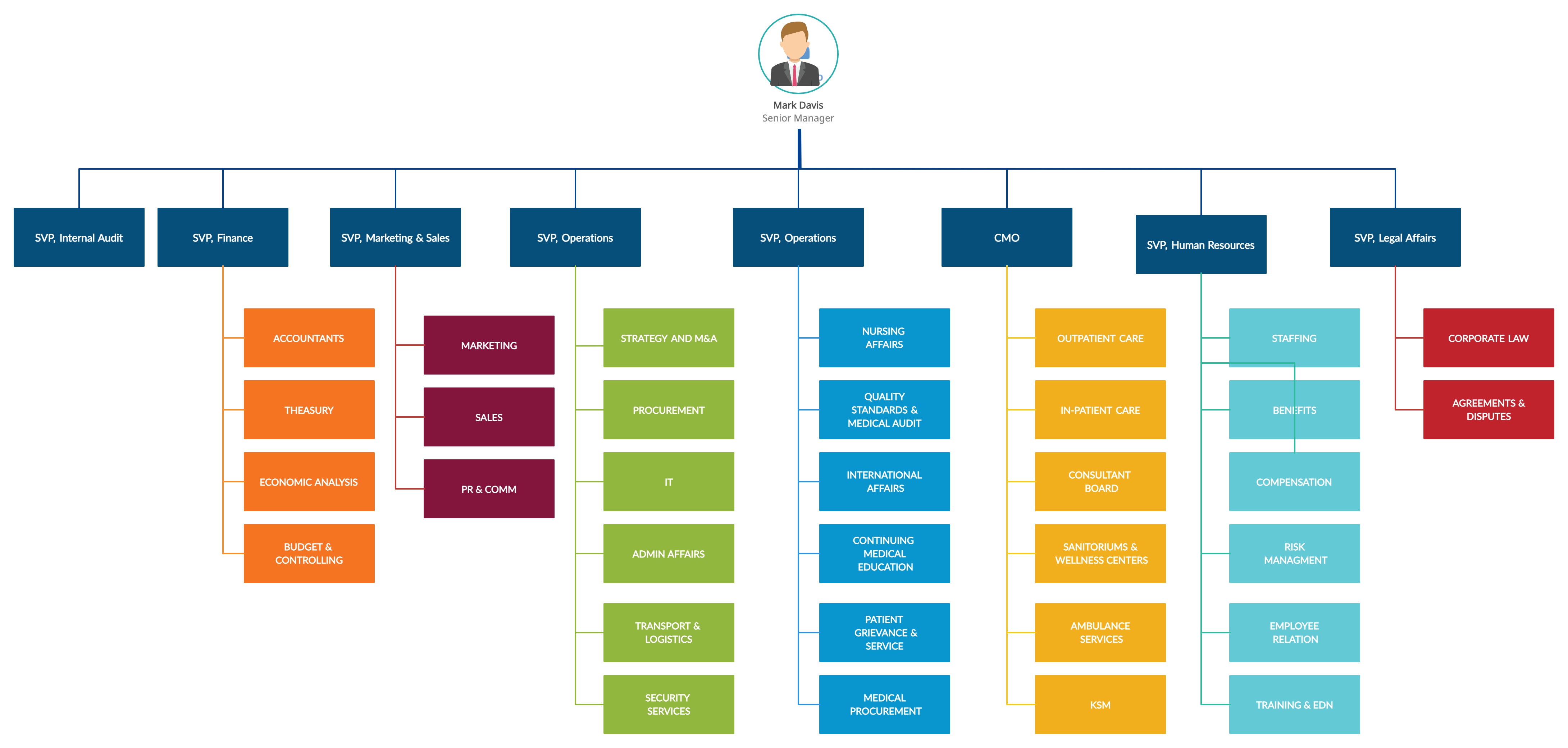 Organization Chart Template for an IT Company
A simple organizational structure for an IT company. The size of the structure may vary depending on the company and its management levels. Click on the image to modify online.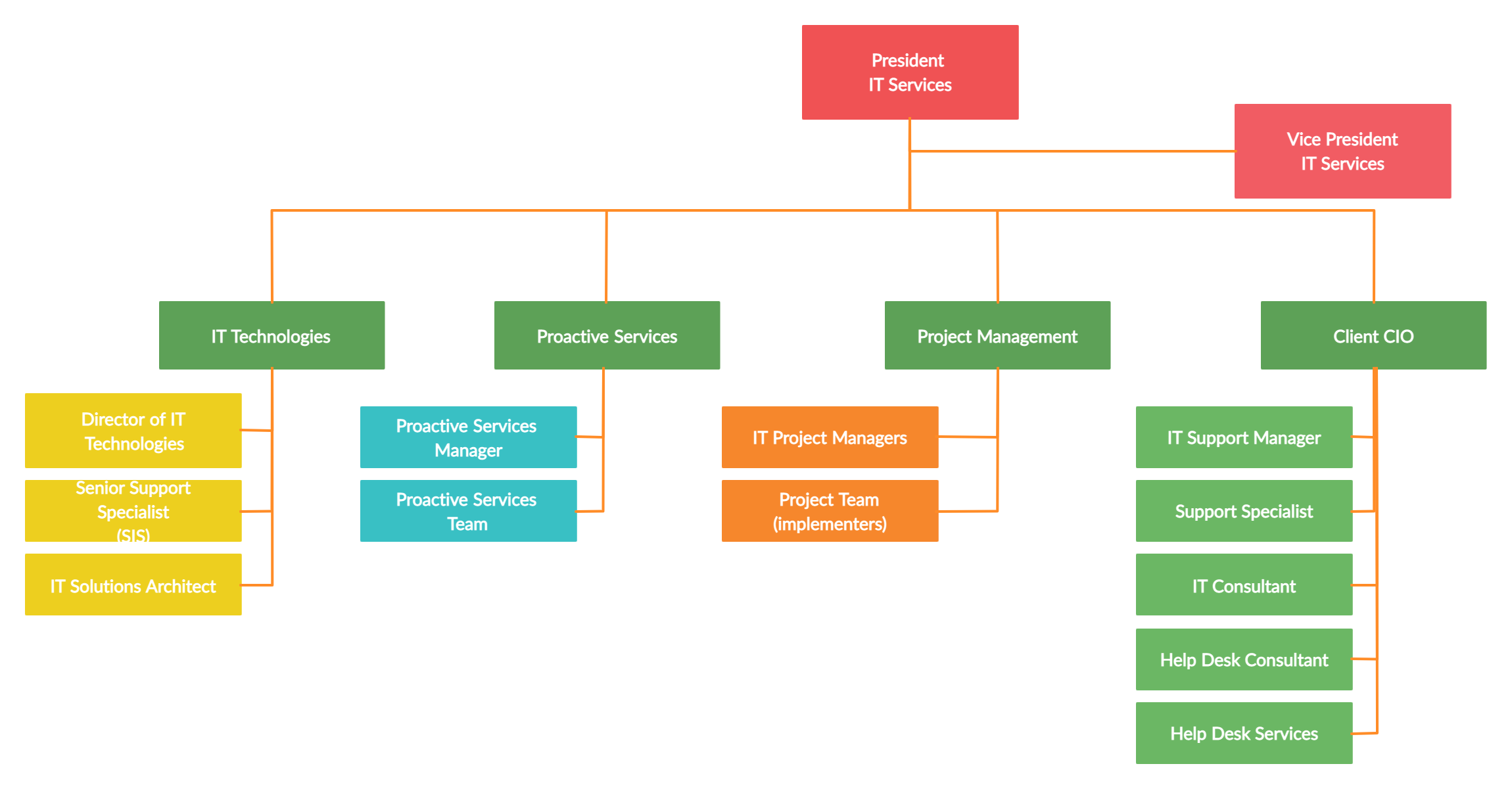 Organization Chart Template for Bank
An organizational chart template showing the structure of a commercial bank. This structure can be different to government sector banks. You can sometimes see very tall structures than in a commercial bank. Click on the image to modify online.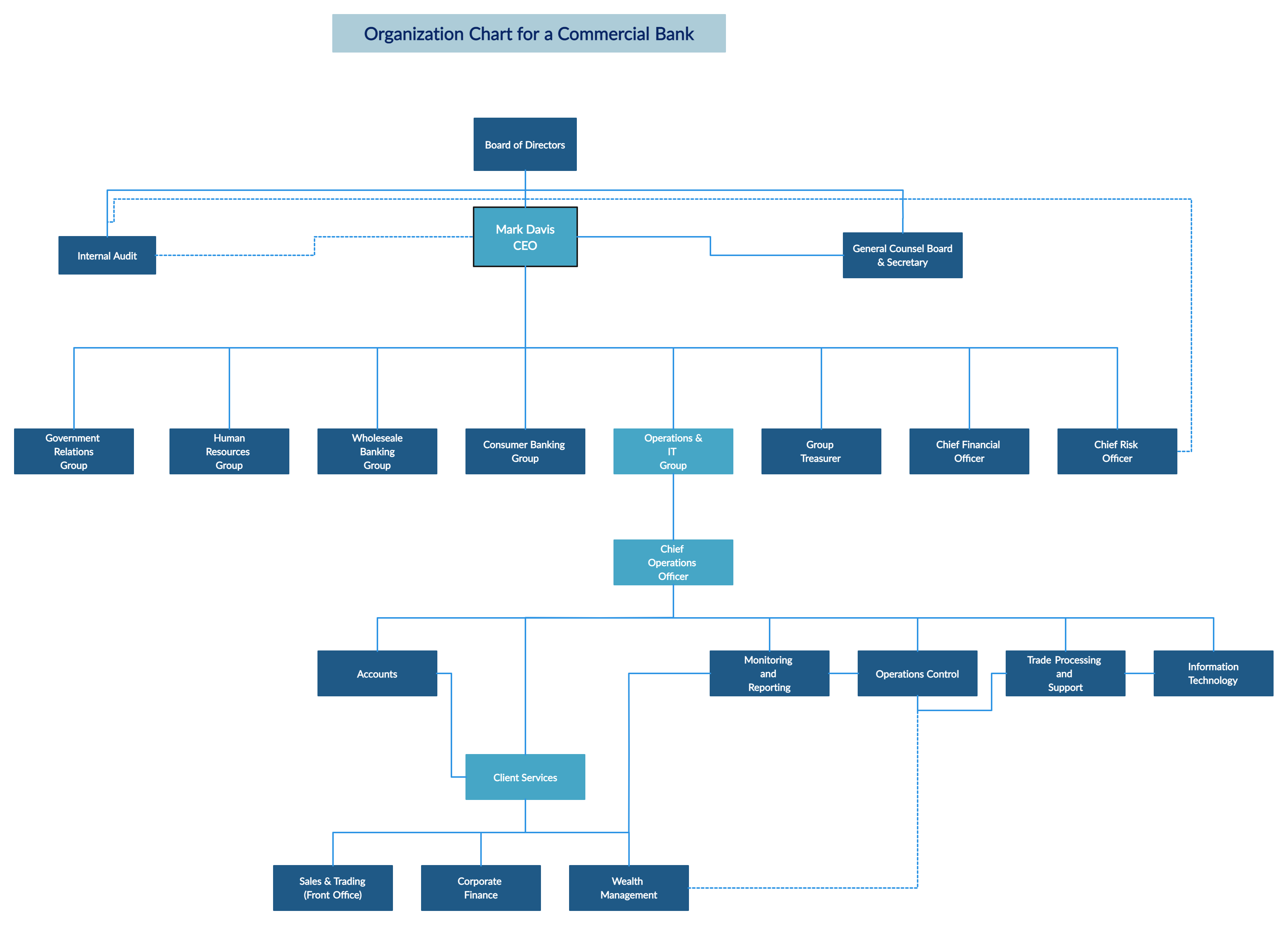 Organizational Chart Templates for Quality Assurance
In this org chart template, it illustrates a dedicated group for quality assurance in an organization. This diagram has broken down the process into two levels with many departments. You can modify this chart as per your organization's QA department or group.
Organization Chart Template for Airline
Drawing an org chart for Airline is tricky. When it comes to the Airline, it is a vast area to cover in a basic chart. As per this orgonogram template, it is really challenging to enter all the levels in one structure. This org chart for an airline shows only the top levels of the management structure. This org chart was inspired by Turkey Airlines. Click on the image to modify it online as you see fit.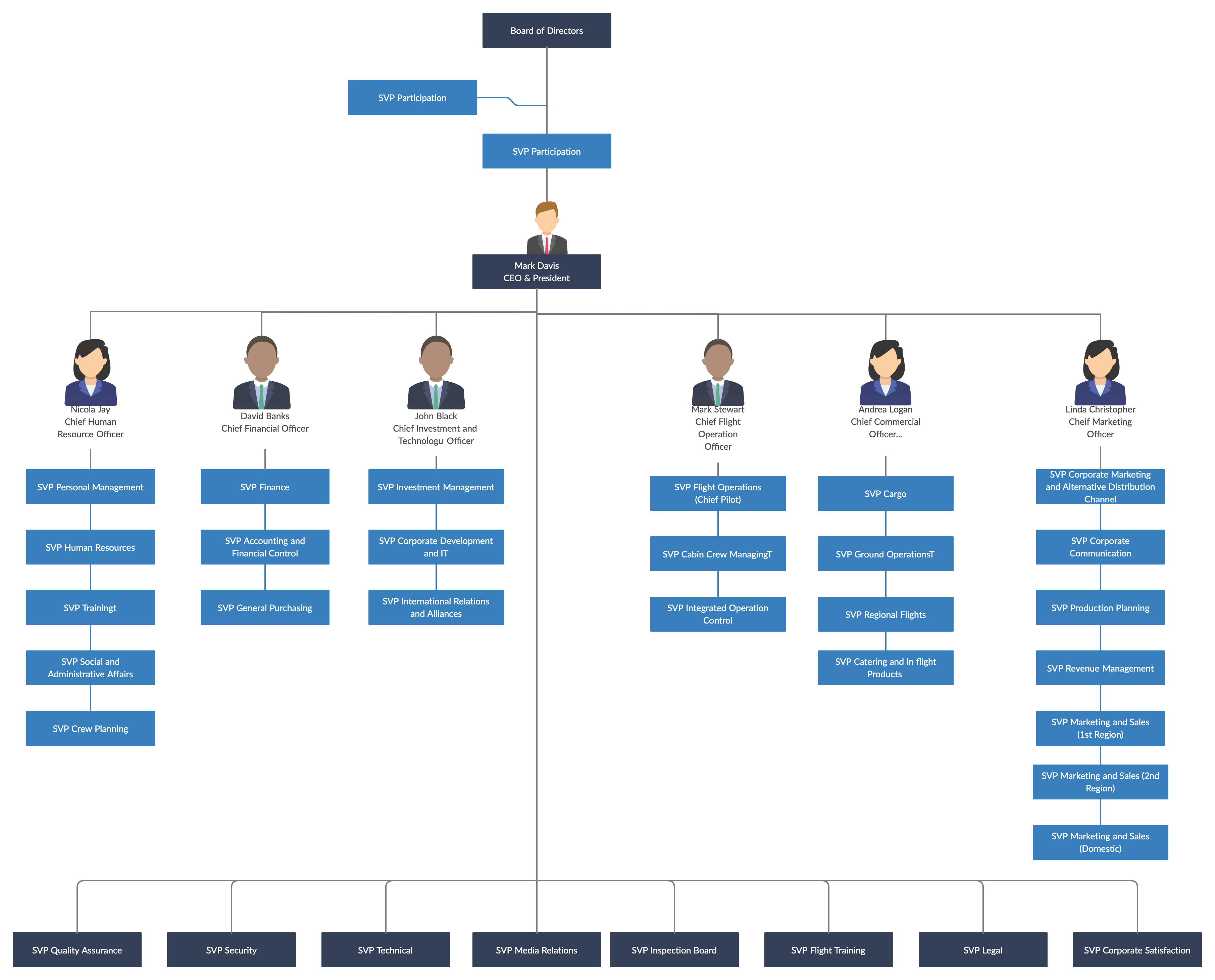 Organization Chart Template for Hotel
Here's a simple org chart template for Hotel structure. This is almost a flat structure. However, this can be expanded in detail by adding other levels. You can add other divisions to the diagram and complete this structure. Click on the image to start it right away.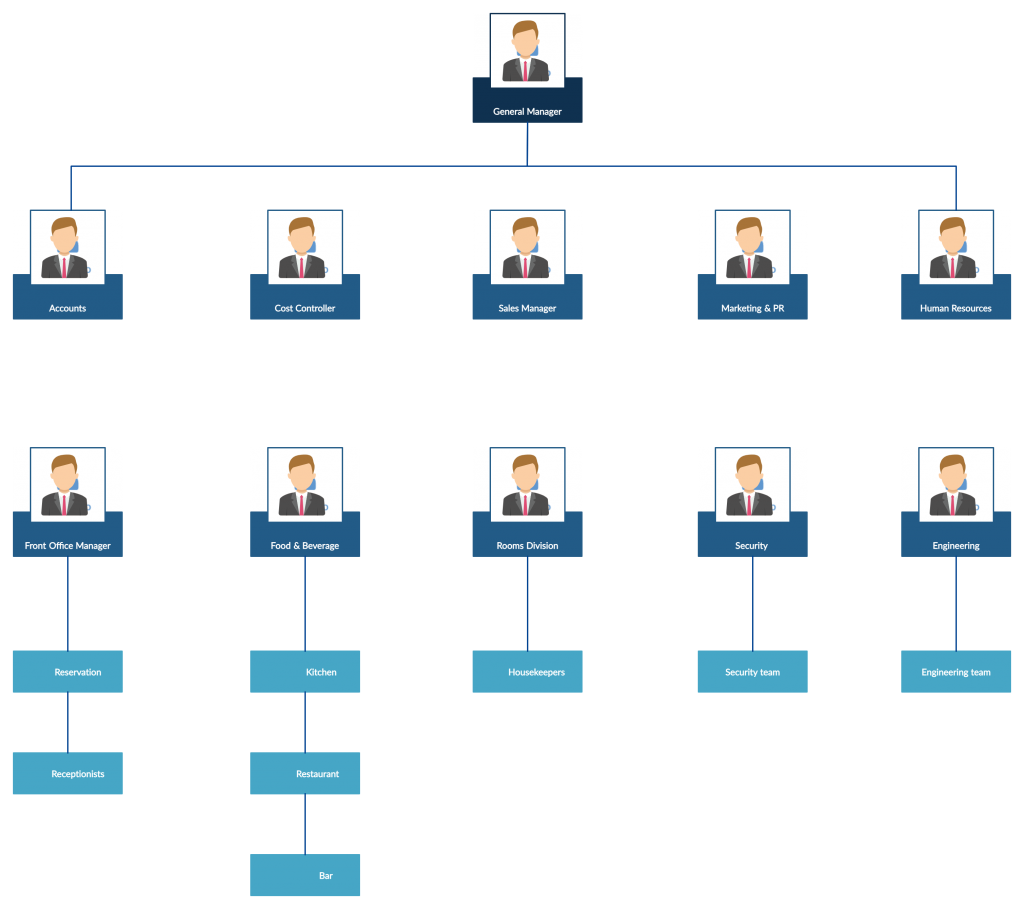 Organizational Chart Templates for Universities
A hierarchy of a university. This organizational structure was inspired by the Ohio State University leadership organization. These types of org chart structures can be used for schools, kindergartens and other educational organizations. Click on the image to modify it as per your requirement.
Organization Chart Template for Holding Company
This diagram template shows the holding company structure with business operations operating independently. Create an org chart structure for your own holding companies. Click on the image to modify and get started.
Organizational Chart Template for an Article Writing Company
This organizational chart depicts the organizational structure of an article writing company. It's simple and elaborative with pictures of those who hold each post attached to the diagram. With Creately, you can search for images on Google directly through the app or import them from your computer. This comes in handy when you are drawing an org chart as you can easily add the images of your coworkers to visualize the structure of your organization.
Organizational Chart Examples of Matrix Structure
This organizational chart is a Matrix organizational structure. Here the reporting relationships are set as a matrix (a grid). This kind of chart can be used to show the working relationships (i.e. which engineers work under the management of which project managers and how they should report to each other) between those who work in a project.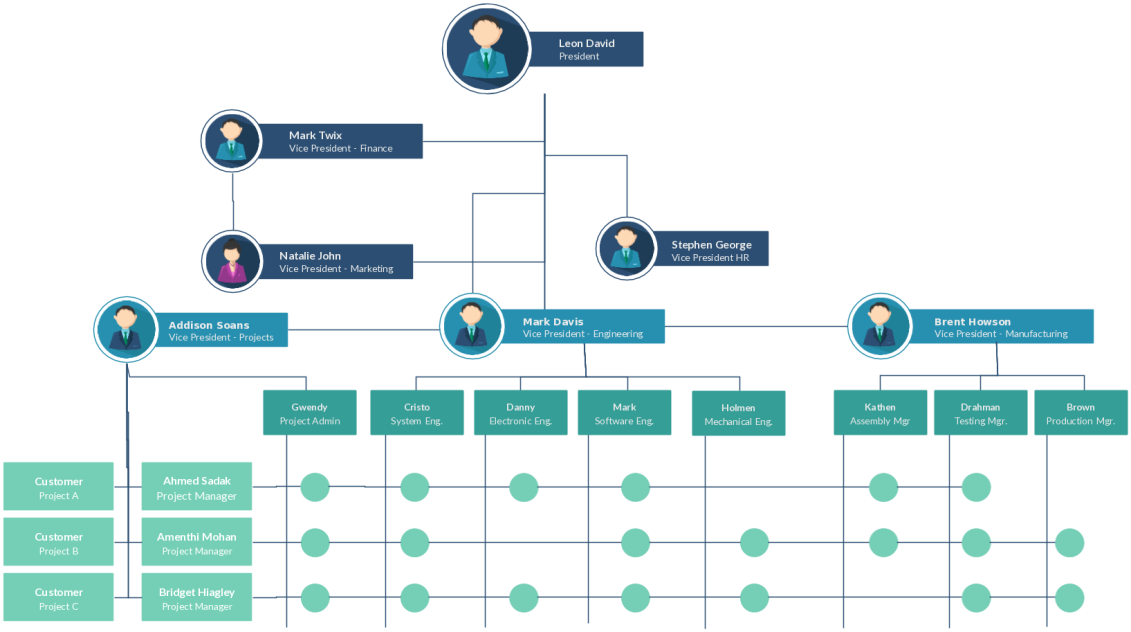 Organizational Chart Template for Transportation Department
This hierarchical organizational chart shows the organization structure of a transportation department. While the boxes have been color coded for illustration, graphics are included for further emphasis. Using Creately, you can also use graphics/images to illustrate your very own org chart.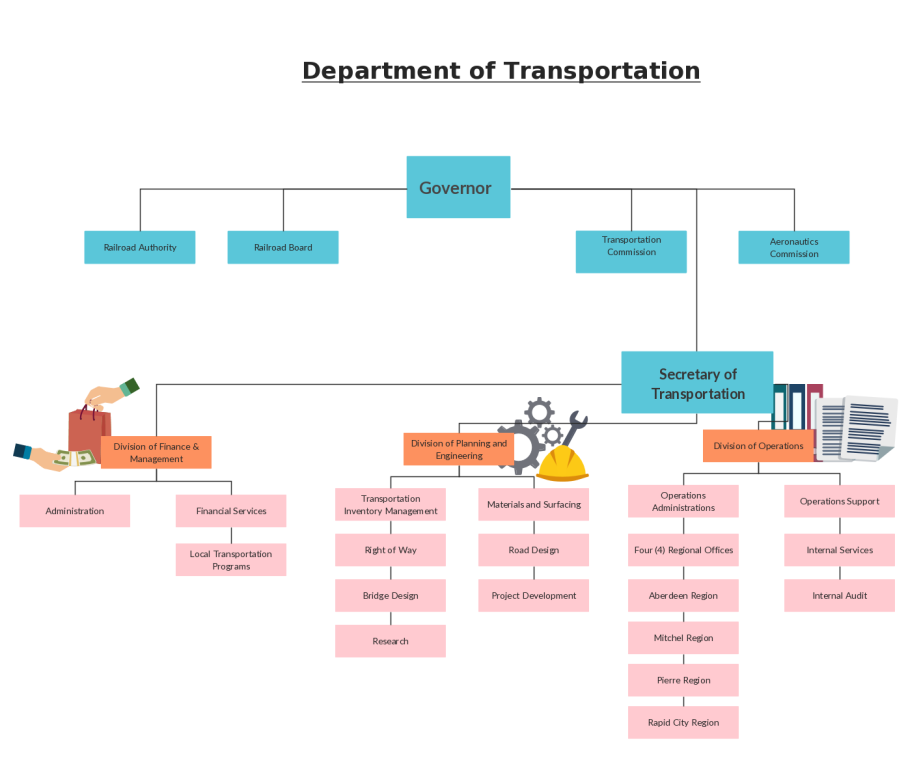 Organizational Chart Template of a State Council
This org chart, which shows the hierarchical structure of a state council, is neatly color coded to emphasize the different institutions operating under the State Council. With Creately, you can select a suitable color theme to illustrate the different departments of your own organization.
Organizational Chart Template for Enterprise Landing
This template portrays an organizational chart for an enterprise. It shows the core responsibilities assigned to each vice president of each department. A chart like this is not only useful for the responsible personnel to keep track of their own duties, but it is also helpful for the employees working under them to know which supervisor they should report to.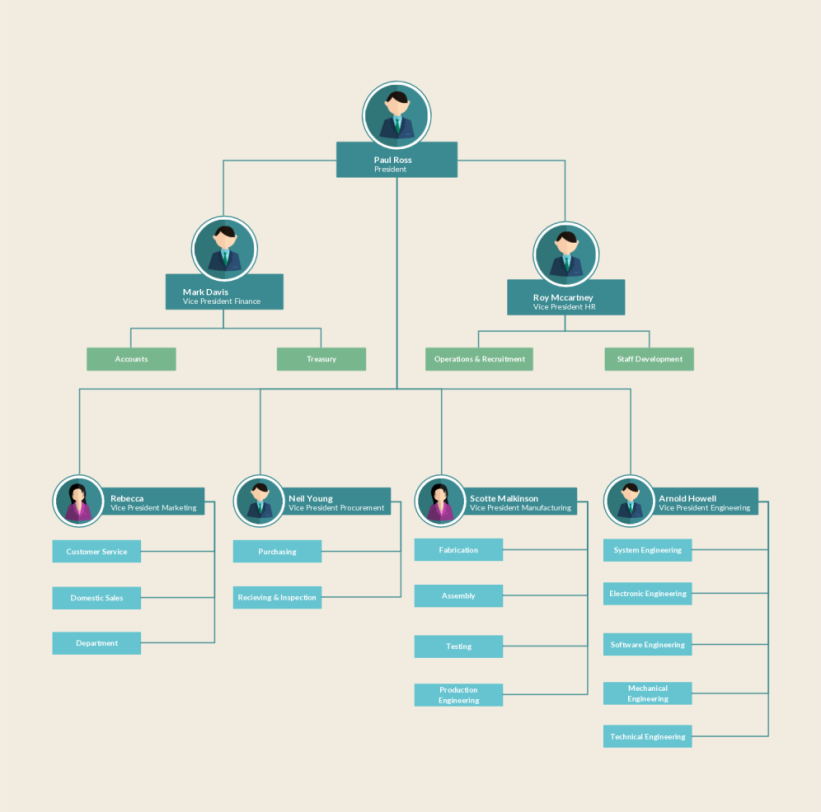 Organizational Chart Template for Human Resources Department
This org chart example representing the structure of a Human Resources Department shows the contact information of the responsible personnel. A chart like this is extremely useful for an organization; whenever an issue related to HR arises, they can refer to such a chart to see who they should be reporting it to and get the contact information quickly.
Organization Chart Example for Multi-divisional Structure
A multi-divisional structure represents a company structure in its various divisions. The divisions could be based on products or services, geographic locations or different departments as shown in the chart below. It also shows who is in charge of each division and who works under them. An organizational chart like this elaborately portrays the varied levels of an organization.
With this diagram template, we will conclude the article. You can browse more org chart diagram templates in our diagram community.
You can also learn more about how to draw/create org charts effectively in our Org Chart Best Practices article. And to the ones who are still confused about having an Org chart for your organization, can read the Advantages and Disadvantages of Org Chart post and decide if you need to have one or not.