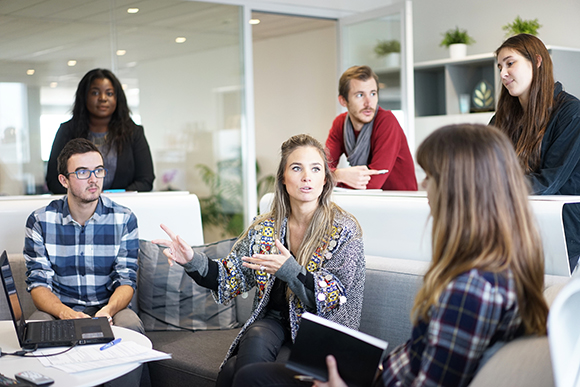 Finding quality talent to fill a position at your company can be quite a painstaking task. Keeping the individual on staff doesn't have to be as difficult.
Although some employees will quit in order to find a better-paying job, the overall happiness of an employee plays a prominent role when deciding on leaving a company. This is why many people will stay in jobs they love even though the pay is much less than what they could get elsewhere. Therefore, to retain employees, it takes much more than offering decent remuneration.
How Does Low Small Business Employee Retention Affect Your Business?
Focusing on high employee retention rates is very important, especially for small businesses. A high turnover in staff can greatly reduce your business' productivity. Every position that is not filled contributes to the inefficiency of the business. Having the right staff available at all times keeps the organization operating at peak performance.
Searching for new employees due to high turnover rates can cost your company quite a bit. Think of all the time and money it takes to hire and train new employees. This is an unnecessary expense that can easily be prevented. With better small business employee retention, all the money spent through the hiring department, ad placements for the position, training and much more could be invested in more essential aspects of your business.
In the small-business dynamic, the effort needed to succeed is much greater than within a larger corporation. You'll need every quality individual you can find to help compete against bigger businesses.
What Can You Do to Increase Employee Retention?
One of the most common places to start when focusing on employee retention is the benefits package. Insurance, retirement savings, vacation time and other features can be quite the attraction. However, you may need to put more emphasis on how employees are treated as individuals. If you truly want to develop a competitive workforce, consider the following tips and strategies.
Engage Your Employees
Employees that understand company goals and objectives are more likely to be more efficient in their work. Discuss any changes in the company with your employees and always let them know what is going on.
Don't let your employees work on the same tasks for years. Give them the opportunity to challenge themselves and take on additional responsibilities. This can reduce the tediousness of tasks some employees do for extended periods of time. It can also motivate your employees to become better workers.
Instead of hiring new employees to take on more challenging positions, give your employees the opportunity to advance and try to promote them within the company when possible.
Encourage Communication and Feedback
Not only does communication improve the efficiency and quality of work, but it can also be a platform for constructive feedback between employer and employee. Schedule routine one-on-one meetings with each staff member and open the lines of communication.
Make it a habit to frequently give feedback to your employees and welcome their ideas which can help you in making their jobs more pleasant. This can be instrumental in helping your employees at their job while helping you become a better manager.
Be Flexible
Offering your employees flexible work schedules can greatly enhance employee retention. Thanks to the innovations of technology, many employees can work from home just as efficiently as if they were in the office. For a mother with a sick child, this kind of flexibility could be an incredible boost to morale. Do what you can to accommodate the needs of your staff without sacrificing business integrity.
Foster Development
Provide your employees with additional training and education which help improve their skills and capabilities. Tuition reimbursement and job-skill training may improve employee retention while giving staff marketable skills your business could utilize very well.
Encouraging and rewarding personal development allows staff to feel confident in their jobs and improves morale. This can also help you identify areas of expertise for specific employees to maximize their talents elsewhere. Allow your managers to get involved and help coach their subordinates.
Hire an HR Professional
The Human Resources department in the company focuses on taking most of the above responsibilities so you don't have to. It is this HR manager's responsibility to focus on perks, reviews and other programs that can work to increase employee retention.
The HR professional may even be able to find programs to help employees you may not have known existed. Instead of putting the pressure on yourself to maintain hiring laws, trends, tax filings and more, the HR staff can do these things for you.
Employee retention is the basis of your business staying efficient. It's not always about buying high-priced talent to perform certain tasks. If you can find a way to connect the employees with the company on a deeper level, skilled staff could stay with your organization simply because they love the job. For many people, happiness in the workplace is much more satisfying than getting a bigger paycheck.
Author bio:
Jill Phillips is a freelance writer and content manager at assignyourwriter from Buffalo, NY. She is an aspiring entrepreneur and tech enthusiast, who loves to share her insight on various business topics. When she is not writing, Jill enjoys taking photos and hiking with her dog. Connect with Jill via Twitter @jillphlps