We've had so many people request for mind maps – but we really didn't want to compete with the likes of the many excellent Mind-Mapping tools out there. But so many requests must mean something.
So we put on our thinking caps on and got to work to figure out how our smart Knowledge Objects can be leveraged to let you create fast, attractive looking mind-maps on Creately.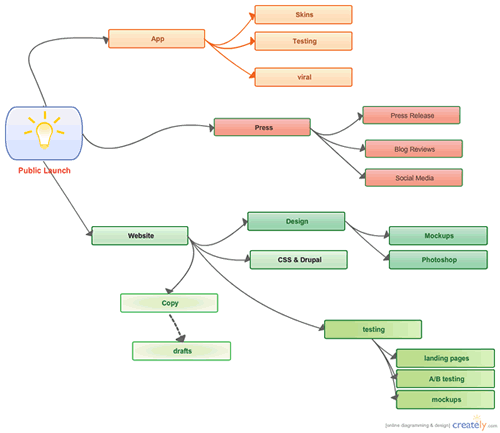 It was simple enough. We built a smart KObject set with 2 shapes, namely
Topic
Idea
With these new Shapes and the 1-Click connector you can now quickly develop mind maps on Creately. Just click on the Contextual toolbar to add a new Topic to an Idea (or use the Alt-Drag Keyboard shortcut). Its really that easy and fast.
And all that with the usual collaborative goodness that is Creately. Comment, Embed, Share and Publish anywhere. Check it out- it's Free.