Draw Organizational Charts Online with Amazing Ease ( Hierarchy Charts )
Tools, Templates and Resource to Draw Org Charts / Hierarchy Charts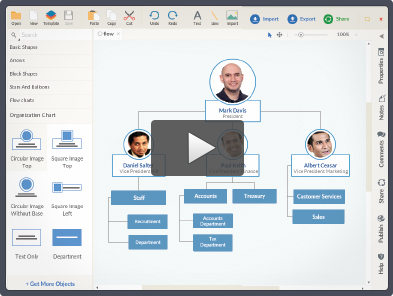 An organizational chart, also known as org chart, hierarchy chart, organigram, organization chart, is a diagram mainly used to show the structure of an organization and the relationships in the organization.
Creately provides tools to draw organizational charts with amazing ease. Our automatic creation tool makes it very easy to add nodes and our filtering mechanism lets you hide/unhide fields while retaining the original data.
Want to get started immediately? Our professionally designed organizational chart templates include hierarchy charts, matrix structures, multiple division structures and a whole lot more. Use the resources below and start creating awesome org charts now !!!
organization-chart Templates
Org Charts Explained
Organizational Charts are diagrams that show the structure of an organization and the different relationships between workers or various departments within the organization.
Having effective organizational structures in place will allow you to identify the positions within an organization, determine who manages which departments and define individual job levels and roles in the organization.
Org Chart Shapes Explained
Visit the Org Chart Shapes page to see what these shapes represent and check out some usage examples.
A list of all the org chart shapes available in Creately's library is discussed here.
Examples and Using organization-charts in the real world
The management spending thousands of dollars on business assets is not a smart move if they fail to manage the most important asset – their workforce.
Articles, Tutorials & Blog posts on organization-charts