Why Creating Infographics is Faster with Creately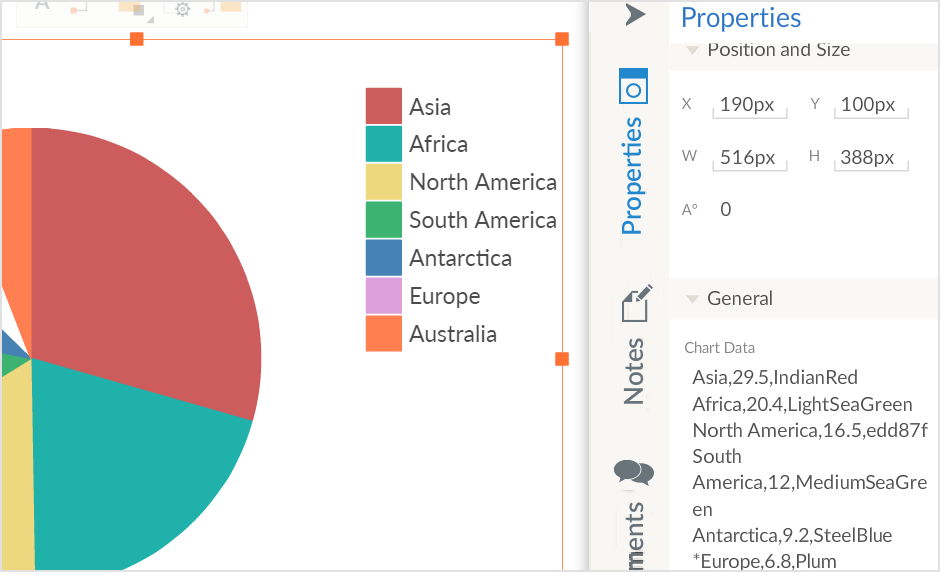 Creately offers some powerful and intuitive features to create an infographic online with amazing ease. Our text-based editor makes it super easy to create data-rich charts. As you can see in the image to the right, there are plenty of options to make those charts look exactly the way you want them to. Plus our color palette was specially designed based on designer feedback. All the rows conform to a specific color theme like flat, retro, rainbow etc. By sticking to them, your infographics will have the designer quality automatically applied to them.
Our contextual toolbar makes things like aligning and grouping extremely simple. You don't have to go looking for these options in the toolbar, they automatically pop up when you select multiple objects.
The integrated Google image search and Iconfinder search make it very easy to add images, icons, and clipart to your infographics. No more searching, saving and importing. Use the built-in search box and just drag the image to the infographic. We simply took all your needs into consideration and built the tool that makes creating infographics online a piece of cake.
Many Presentation and Exporting Options
We provide you with multiple ways to present and export your infographic online. Not only can you export the infographic, but you can also preserve the various links in the diagram if you export it as a PDF or an SVG. Since infographics are mostly used to visualize data this is an extremely useful feature to have. You can use it to reference sources, link to related sites or to even link to your own website if necessary.
With SVG export, you can draw using our infographic software and add design elements to it using other SVG editors like Adobe Illustrator. This way you can add the charts, maps etc. using our tool and add colorful backgrounds etc. using another editor.
Infographics tend to be large diagrams by their nature. Our specially designed viewer helps you to embed any large infographic in small spaces and view it using zooming functions. You can zoom in, zoom out, move the image by dragging and do a whole lot more. Viewing large infographic in a web page couldn't get any easier.
There are many other exporting and presentation features for you to play around with. Our tools remove limitations and help you to be imaginative and creative. Just give it a try and feel the difference.
Create Infographics Together with Your Team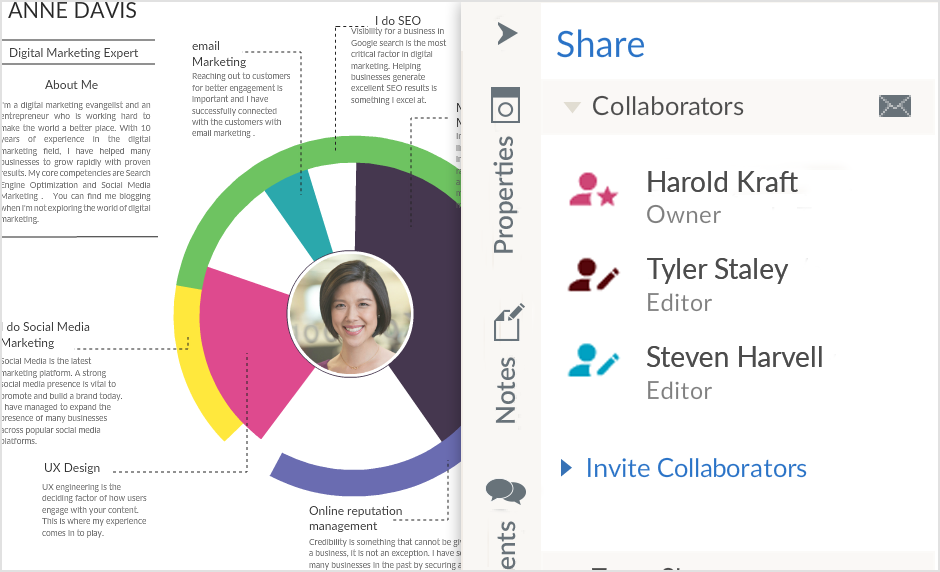 Collaboration is extremely important when creating an infographic. Facts need to be checked, data need to be verified, sources referenced properly and of course, it needs to go through a few revisions to finalize the design. Many people get involved in all these steps and with our collaborative infographic maker which offers handy real-time collaboration features, every party can collaborate seamlessly within the diagram itself. You can instantly see the changes made by others, leave comments specific to different elements and a whole lot more.
Every change is preserved in the revision history so you can easily analyze the changes and reverse them if necessary. This feature alone saves you hours of time spent on attending meetings and back and forth email communications.