Creately for Fogbugz
Expand your Fogbugz cases with easy contextual
Flowcharts, Wireframes/Mockups, UML and DB diagrams.
Update your wiki documentation with diagrams that anyone
can edit. True wiki style collaboration.
Powerful, diagram type specific features, enabling faster
drawing.
Beautiful templating and color matching.
Hosted inside FogBugz OnPremise.
Hundreds of templates and thousands of examples from
Creately.com's online diagram community repository.
Works in your language. Supports English, French, German,
Russian, Chinese, Japanese and Spanish.
Prices
Creately FogBugz Resources
Customers and Testimonials
Painless, clean, elegant creation of useful diagrams. Great time saver

- Phetsy Dutchko

This is a greate product , we can draw different type diagram easily any where, any time

- Andre Lanito

Everything perfect. Loved using it.

- Jennifer Bentley

Awesome. Packed with easy to use features.

- Christi Chavez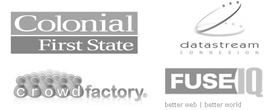 Inside Creately for Fogbugz
Have more questions?

Contact us on
sales@creately.com
USA : +1 650 646 2742 AUS : +61 3 9018 7799
creately.sales