Flowchart Maker to Easily Draw Flowcharts Online
Simply the easiest way to create flowcharts online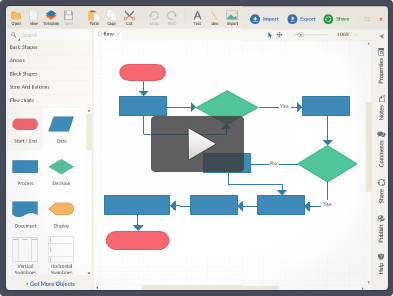 If you're looking for an online flowchart maker you've come to the right place. Our innovative flowchart maker, combined with productivity features like 1-click create and connect make flowcharting a breeze.
Having the right tools is just the beginning. We're providing you with flowchart templates and in depth articles about flowcharts to make your job even easier. Learn about flowchart objects, how other companies used flowcharts in their business processes, more advanced usages of flowcharts and a whole lot more.
Stuck for ideas? Want to get started faster? Our professionally designed flowchart templates is a good place to start.
Flowcharts Explained
Flowcharts are an excellent tool when it comes to the aspect of diagrammatic representation. Not only does it simplify the whole aspect of a problem but it leads to a step-by-step solution to a problem.
When it comes to the real world, flowcharts are the ideal tool to design, evaluate, document or even supervise a process across many different fields.
Flowchart Symbols Explained
Drawing a flowchart is simple enough, but for them to be universally understood you have to follow certain standards. So it is very important to use the right symbols in your flowchart.
Check out our flowchart symbols page to learn about all the standards flowchart symbols you can use in your flowchart. There's more to flowcharts than processes, decision and terminators.
Examples and Using flowcharts in the real world
Filtering out the qualified customers from the less qualified is a hard task to begin with! But the job is well taken care of by the sales funnel. Sales funnel/pipeline acts as a strainer to direct qualified buyers through the sales process.
Our decision making skills are put to good use to solve problems and make choices. Making a decision implies choosing one course of action that has the highest probability of success from several alternative choices.
Visual communication is one of the best ways of conveying abstract ideas across to the team. Takehiro Kakiyama, Co-founder and CEO of FlutterScape, had to visualize the business model, website eco-system and other logic to his team and clients. Having used PowerPoint initially, he wasn't too happy.
Articles, Tutorials & Blog posts on flowcharts