With new tools and new channels entering the picture on a daily basis, the marketing process is becoming harder by the day. If you're a decision maker, you might find yourself overwhelmed by the various tools, techniques, and channels available to you. By visualizing the marketing process you can enable yourself and others to focus on different aspects of the process and how they all work together.
There is no one way to do this, go through the pointers mentioned below and come up with your own method.
Use Flowcharts to Identify and Document Workflows/Processes
Although marketing is one big whole process, it consists of many smaller processes. You can visualize these processes easily using a flowchart. The below flowchart was drawn using Creately and it depicts an article writing process. Not only can you see the process, but you can also easily visualize who is responsible for different tasks in the process.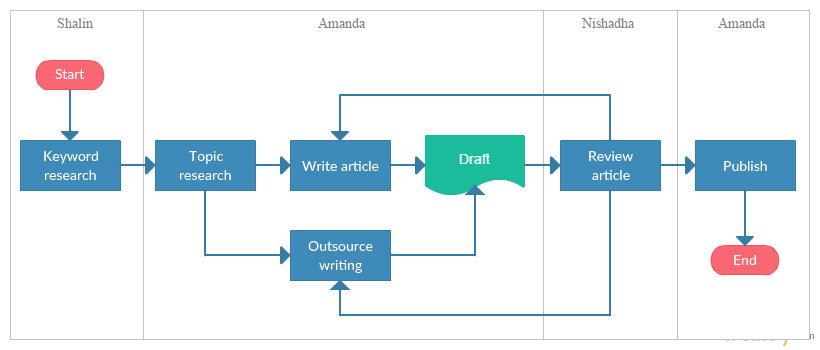 The example above is simple and generic. But you can visualize much more complex processes using flowcharts to make better decisions. For example, you can create a similar flowchart for your signup process and put the actual numbers in the connecting arrows. This enables you to identify gaps in your signup process and helps you to tweak them for better conversions. It could be something simple like changing the button color or using marketing automation to stop abandoning shopping carts. After all, marketing is all about generating leads at the best possible price.
Use Mind Maps for Marketing Planning
Planning requires creativity and is a daunting task for many decision makers. There are so many things to consider that getting started itself is hard. This is where a mind map will come in handy.
Mind maps work similar to how your brain works, making it easier to start writing down your plan. This free flow of ideas will help you quickly explore your ideas and come up with a plan faster. Once you have a sizable mind map you can quickly see how those ideas connect with each other and help you make better decisions.
But planning isn't the only use of mind maps. For example, you can use it to visualize the functionality of a tool you're evaluating. You can use it to easily visualize a complex process that has many sub-processes. The possibilities are endless.
Use SWOT Analysis to Make Informed Decisions
Any marketer worth their salt has heard of the marketing mix and the four Ps of marketing. And a good SWOT analysis can contribute to all four elements of the marketing mix.
You need a thorough understanding of your product before you can market it. With a SWOT analysis, you can identify the strengths of your product and its weaknesses when compared to competitor offerings. You can use this knowledge when promoting your product and when setting a price as well.
SWOT analysis isn't something you do once and throw away. It's a living document which will change over time. You might strengthen your product with new features or new opportunities might arise in the market. Having a record of all these changes in one location not only helps you to get a better picture before making a decision, but it will also allow others to contribute to the marketing process.
Are You Visualizing Your Marketing Process?
A complex process like marketing can benefit a lot from visualizing. Visual communication has many benefits which will aid you way beyond simplifying your marketing. Other than the diagrams mentioned above you can make use of many other diagram types to visualize your marketing process. For example, you can use an org chart to visualize your marketing team, identifying talent gaps and make future hiring decisions. Once you start exploring visualization you'll be spoilt for choices.