There is a lot of cool functionality in
Creately Desktop
, and some may be more accessible than you think. These cool tricks in Creately Desktop could save you time better spent in polishing your diagram. Learn these to save time and improve the look of your diagrams.
Short cut keys make life Easier
We'd bet using a short cut key could save you a good half a second! Especially for those of you who consider themselves as being keyboard aficionados, access to our list of short cut keys is as easy as clicking the Help menu.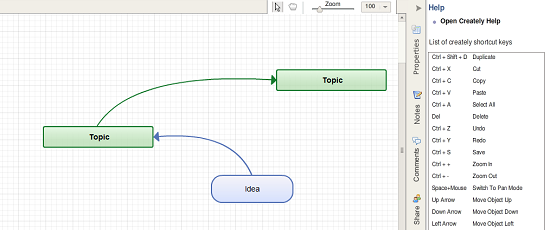 KObjects get Smarter
Details! Details! Details! Web mockups can be tough to do, which is why Smart KObjects (we got loads!) like Creately's Accordion Pane can and will make your mockups look complete. And there really is nothing like an almost-complete website to convince a client. Working on our KObjects are as easy as tapping a few keys. For example, consider the Accordion Pane below. The following Text will create 5 panes with the second one open while the rest remain collapsed.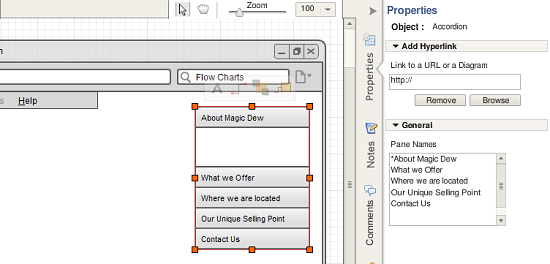 Putting it in Context
Our Contextual toolbars rock! Flowcharts and mindmaps are useful just about everywhere, from the classroom to the boardroom. And although there are a ton of applications that you can use to create flowcharts, we believe Creately Desktop offers the best user experience for flow-charting on the web. With these new Shapes and the 1-Click connector you can now quickly develop mind maps on Creately. It's really that easy and fast.

From your Desktop to the World in seconds
Visual Collaboration is more than just the diagrams you draw. Here at Creately, we make the whole process of visual collaboration and sharing easy. You'll find our new Twitter button neatly tucked away in the Share panel on the right-hand side. Check the box to enable a URL for your diagram and click the "Share on Twitter" button to publish your diagram directly to Twitter.

Online or offline, collaboration is cool
We've ranted and raved on about Creately Desktop and its Diagrams Anywhere feature. But the secret to it all is synchronization. What this beautiful word means is that if you, for instance,  add another rectangle onto your diagram that is housed in Creately.com, the same change will be reflected on the Creately Desktop and vice versa. This is just the cusp of it. You can change the color of an object, make a text change, comment to your heart's content or rearrange your whole diagram and all those who collaborate will be able to see it.